My jaw dropped open when I saw the image that Melissa just posted over at Shakesville.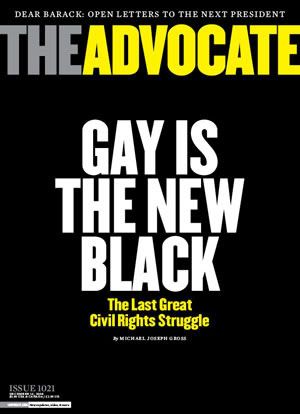 This is one of the most disgusting things I've seen emerge from any movement for social justice in the last decade. Of course, another one was the editorial "Gays First, then Illegals" which was also put out by the Advocate. Apparently they've changed positions — they used to think gay rights should come ahead of other kinds of struggles. Now they've realized that really, there are no civil rights to worry about after their problems are taken care of. Well, no great struggles anyway. It'll be like sweeping up after a big party.
Also, did you hear? Gays are like black people. I guess that makes gay black people old and new at the same time: you guys are such fierce paradoxes, really! It's stuff like this that makes me want to avoid working for my OWN rights as a queer and just go do something else with my time and energy. A lot of the contemporary, mainstream gay rights movement is focused around the fact that their constituency are "second-class citizens." Well, once they've finished the "last great civil rights struggle" I suppose that white, middle-class, cisgendered, able-bodied gay guys with full citizenship will be "first-class citizens" at last. That's just what we need in this country: more first-class citizens to be productive members of society and act like all the third, fourth, and fifth class citizens don't exist anymore.
I have no more time, money, or patience for any movement that's solely focused on gaining first-class citizenship for one group of second-class citizens.
Update: Melissa found the actual cover story, which is printed with a question mark at the end: "Gay is the new black?" The essay, by Michael Joseph Gross, is nothing like the cover of the magazine makes it out to be — which basically means that the editorial board that put together and approved this cover are the ones who owe Gross and many other people an apology. No scratch that, let's just tar and feather them and run them through the streets at the next pride parade.

Here's a VERY relevant paragraph from Gross's actual essay:
Our oppression, by and large, is nowhere near as extreme as blacks', and we insult them when we make facile comparisons between our plights. Gay people have more resources than blacks had in the 1960s. We are embedded in the power structures of every institution of this society. While it is illegal in this country to fire an African-American without cause and in most places it's still legal to fire a gay person for being gay, we are more likely to have informal means of recourse than black people have. Almost all gay people have the choice of passing. Very few black people have that option. Of course, we shouldn't have to make that choice, and our civil rights struggle is about making sure that we don't have to.
So yeah. The editors and publishers of the advocate printed a story that says "we insult black people when we make facile comparisons between our plights." Then they make the most facile possible comparison on the cover of the magazine. I'd say that's a deliberate insult.
---
Similar Posts (automatically generated):