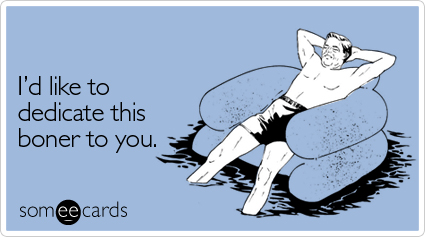 It's Valentine's Day, which means that everyone is either complaining ("it's such a corporate, Hallmark holiday") or making a big show out of how happy they are (see 1.5 million Cosmo-style articles across the interwebs and on a magazine rack near you about how much the author, who spends the rest of the year hawking self-loathing and female anxiety, loves herself). The only thing more annoying than the obsession over Valentine's Day (hate it! love it!) is peoples' apparent need to project all of their insecurities and issues onto Valentine's Day. It's just a day. We're all going to be fine.
I personally like Valentine's Day because it means that as soon as all the heart-shaped candy in the drug store is gone, it'll be replaced by Easter candy, which is far superior and which necessarily includes Cadbury Creme Eggs (and also Cadbury mini eggs). V-Day is a harbinger of good things to come (to Rite Aid). I'm sure that speaks volumes about my own psychoses.
Of course, Valentine's Day isn't what it used to be. Those romantic Romans really did shit right, and we don't seem to have followed suit. So if any of you crazy kids are getting smacked by a dead goat carcass tonight, enjoy it. And send pictures.
And happy Valentine's Day, really. What are you all doing? (I hope at least one of you is getting laid.)
---
Similar Posts (automatically generated):